Mareuil-sur-Aÿ
291 Hectares
242 Pinot Noir
27 Chardonnay
22 Meunier
Pinot Noir is the dominant varietal in Mareuil, yet – and this is one of the fascinations of Champagne – Pinot Noir from Mareuil has its own particular character. Pinot Noir from Bouzy might be described as 'powerful', whilst the word 'tension' might best describe the Pinot Noir from the north-facing slopes of Verzenay , but in Mareuil the word that comes to mind is 'elegant'.
What is it that gives rise to this style and to such consistently high quality? There are several factors that play a role.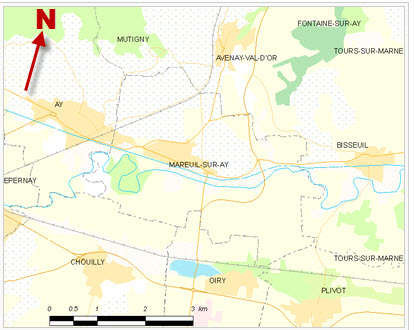 Mareuil lies some 8 kilometres to the east of Epernay and is included in the area known as La Grande Vallée de La Marne, but here the river valley is so wide that one has no real impression of being near a river at all. However, a broad canal lies along southern boundary of the village flanked by towpaths and moorings for pleasure boats which lend a peaceful, bucolic atmosphere to the entire village.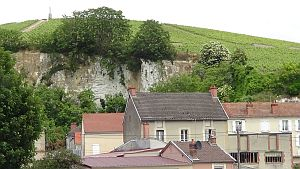 The majority of the vineyard slopes face south and because the Marne valley is so wide at this point there's nothing facing the vineyards to impede the full exposure to the sun. This means wonderfully ripe fruit and few, if any, late harvests, not to mention great views from the highest point in the village: the 180 m high Mont du Gruguet.
Unlike many other villages, even some that are Grand Cru, there are no plots in Mareuil that abut the forest and where often one finds a higher clay content in the soil that can bring weight to the wines and reduce their elegance.
On the contrary the soil in Mareuil is extremely chalky. This is brought home vividly just by strolling through the village where right amongst the houses you can see a cliff of solid chalk.
The village is home to some well-known names such as Billecart-Salmon and Philipponnat whose famous Clos des Goisses comes from a plot of the name on the edge of the village. A glance at the map of the individual plots is fascinating and reveals a host of wonderful names each no doubt with its own story to tell. It's intriguing to guess at some of these, especially the plot called Les Faubourgs d'Enfer (the suburbs of Hell), although I'm told it's because it feels hellishly hot working there on a summer's day.
As well as the two famous brands mentioned above Mareuil-sur-Aÿ boasts some wonderful small brands too: Marc Hébrart, Roger Pouillon and Bénard-Pitois are three well worth discovering.